A Hometown Win for HOMA this past weekend at the Genesis Invitational in sudden death. Now the Tour Players need to gear up for a true test in the Sunshine State.
---
Brutal for average golfers, Concession Club should be fascinating test for tour players
When the PGA Tour makes a one-time visit this week to The Concession Golf Club in Bradenton, Fla., contestants will find one of the most penal and pernicious layouts in the Sunshine State, and that was before a couple of hundred yards or so recently were tacked onto the par-72 layout that previously measured 7,474 yards.
The course rating before the renovation was 77.6 and the slope was 155. That means that it's hard. With strongly contoured greens reminiscent of Augusta National Golf Club, it might be one of the most exacting tests on tour when it hosts the World Golf Championships-Workday Championship at The Concession. The Concession was chosen as an alternate site when the tour opted to relocate the event for a year from its site in Mexico.
A slide show of every hole at Concession Golf Club
"It's the kind of golf course that will eat your lunch," warns Bradenton resident Paul Azinger, a member at Concession Club and lead analyst for NBC Sports, which broadcasts the coverage of the $10.5 million event. "It's all you want from those back tees."
Sounds ominous. Should we cue the "Jaws" theme?
Um, actually, no. He doesn't think anyone's lunch is in real danger.
"I say that, but I think it can be had," he added.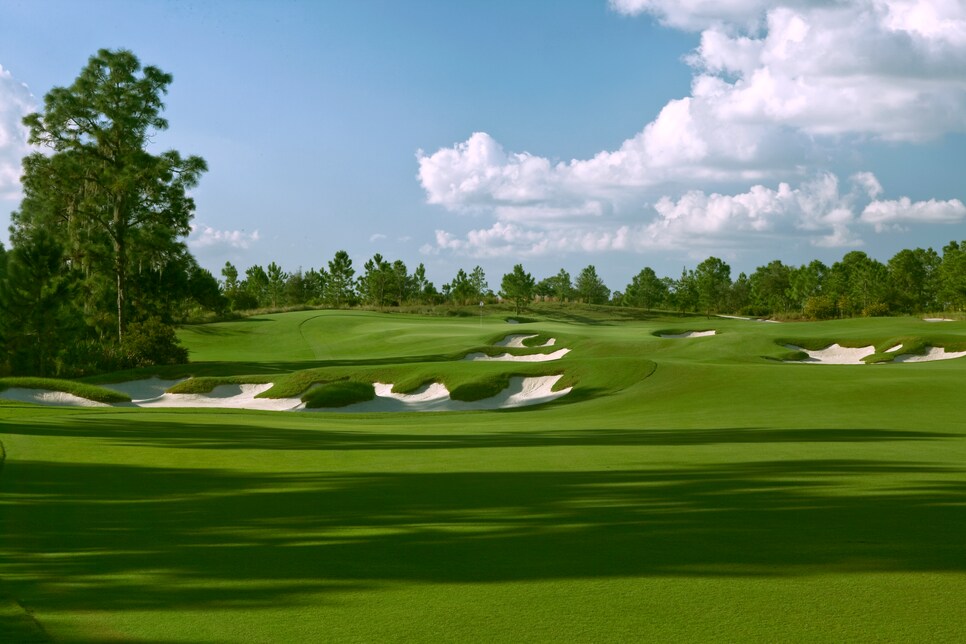 Photo Courtesy: Russell Kirk
The third hole at Concession Golf Club.
The club commemorates the gesture of sportsmanship that Jack Nicklaus extended to Tony Jacklin in the final match of the 1969 Ryder Cup at Royal Birkdale when he conceded a two-foot putt that halved their match and resulted in the first tie in Ryder Cup history. Nicklaus and Jacklin collaborated on the course, which opened in 2006, though mostly it's the work of the Golden Bear, particularly the severe green complexes, which he said were inspired, in part, by the work he did with Tom Doak in another collaborative effort, Sebonack Golf Club in Southampton, N.Y.
"It is a hard golf course, undeniably," said Gary Koch, one of Azinger's broadcast partners and an honorary member at Concession Club. "To be perfectly honest, I don't play there a lot because it's too hard. Day in and day out, it's just hard to shoot a good score there. It's in immaculate condition. Everything about it is first class. But you have to be a certain kind of player to play it well."
Hmmm. Like, maybe, a top-50 player in the world who might possess a certain talent, like hitting it far?
"If you see the golf course from a 310-yard carry distance off the tee, it's not very hard. If you carry it around 280s to 290s … anything under 300 it becomes a very difficult course," Azinger said. "You basically have five dangerous shots out there. Three of those are eliminated for a guy who flies it 310 or more. Those guys will get six sand wedges in their hands, and then you have the four par 5s, so that's 10 sand wedges, if they happen to lay up, but they ought to reach those par 5s most of the time. From a bomber's eye, it's not that difficult.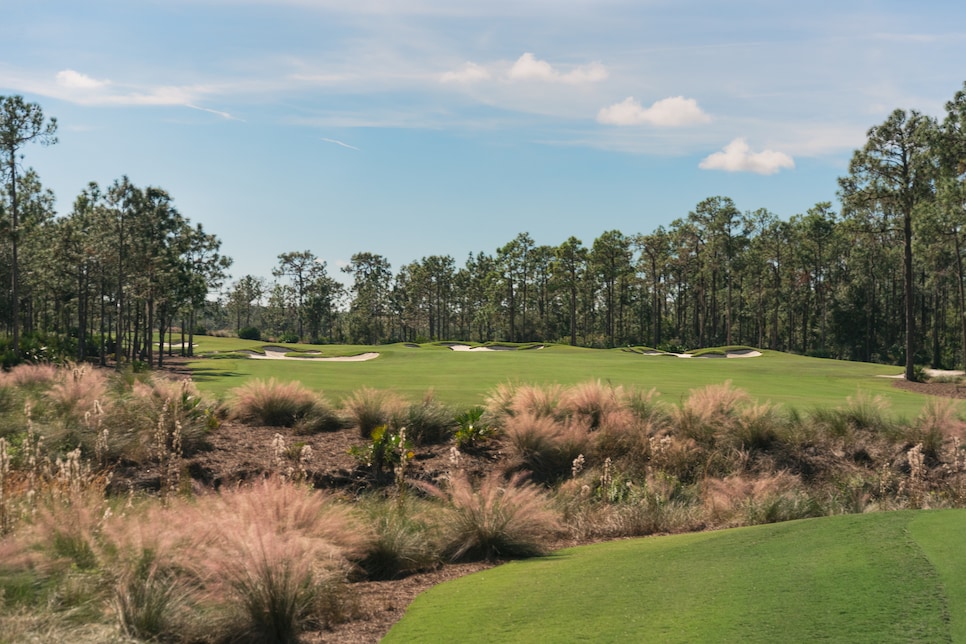 Photo Courtesy: Jeremiah Khokhar
The opening hole at Concession Golf Club.
"With no wind, I can see 17-20 under par winning it," the former PGA champion added. "If there's wind, yeah, 7-8-9 under might be enough."
Water comes into play on 12 holes, but the real defense of the golf course is found in the greens, which for member play can sometimes run as fast as 14 on the Stimpmeter. However, Azinger already has heard that the tour staff will keep them around 12½ so that will take a bit of teeth out of them. But they will still have some bite.
"You have to be so precise playing into the greens," Koch said. "There are quadrants and ridges and slopes and a lot of false fronts … and, this is just me, but I would think the tour staff will err on the side of caution with hole locations. Virtually every green sits up. So once a ball veers off the green, it can run 10-15 yards down a slope away from the green. Then it does get interesting."
"The greens are like mini-Augusta greens," added Azinger. "A lot of small targets within the putting surfaces. You will see a lot of balls, when they hit the green, they will move away from the hole. Seldom will you see it move towards the hole. And chipping will be tough. But the grass is so pure that even I can get it close to the hole with no practice. And these guys are dialed in. Unless the wind blows, you're going to see some guys shoot pretty low. But guys who play poorly are going to struggle. It's the type of place that separates a field."
In recent years, the course has hosted two editions of the Concession Cup, an amateur team event for mid-amateur and senior amateur players from the U.S. and Great Britain & Ireland, and the 2015 NCAA Division I Men's Championship won by Bryson DeChambeau, who shot 8-under-par 280 to beat C.T. Pan by a stroke. Other players in this week's WGC field who competed in that NCAA were Jon Rahm, Scottie Scheffler and Xander Schauffele.
SOURCE: golfdigest.com